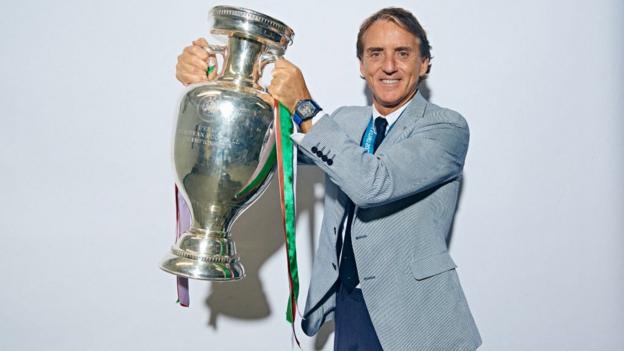 Roberto Mancini has been appointed as the new coach of the Saudi national team, two weeks after he resigned from coaching the Italian national team.
The 58-year-old coach led Italy to win Euro 2020, beating England on penalties in the final at Wembley Stadium.
The team achieved a world record unbeaten run of 37 matches, but failed to qualify for the 2022 World Cup.
He has signed a contract until 2027. His first match with the team will be on September 8 against Costa Rica at St James' Park in Newcastle.
"I think this is a great opportunity for me, to experience football in a new country, especially with the growing popularity of football in Asia," Mancini said.
"Having the best players in the Saudi Professional League indicates the potential for growth in the national football scene."
At last year's World Cup under former coach Hervé Renard, Saudi Arabia shocked eventual champions Argentina with a 2-1 victory in Qatar, but failed to advance beyond the group stage.
Mancini led Manchester City to their first Premier League title in 2012, and also coached Fiorentina, Lazio, Inter Milan, Galatasaray and Zenit St. Petersburg.