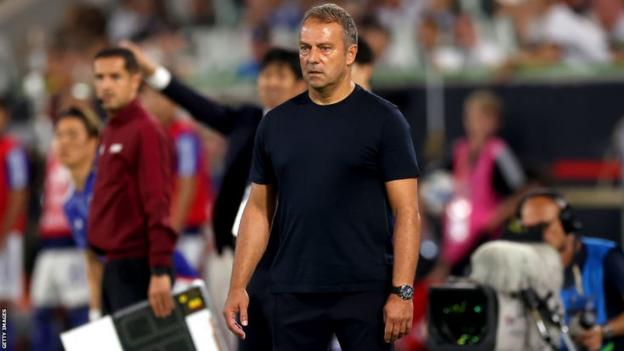 Hansi Flick was sacked as coach of the German national team after the friendly defeat to Japan 4-1 on Saturday in Wolfsburg.
He became the first German coach to be dismissed since the establishment of this position in 1926.
Germany have lost four of their past five matches, with Flick overseeing just 12 wins in 25 matches since replacing Joachim Low in August 2021.
Rudi Völler, who managed the team from 2000 to 2004, will take temporary charge for the friendly match against France on Tuesday.
Voller (63 years old), a former Germany national team striker, was appointed manager of the German national team last February.
He will be assisted by Hannes Wolff and Sandro Wagner.
Germany will host the European Men's Championship next year, but it is in a state of chaos.
Bernd Neuendorf, President of the German Football Association, said: "The committee agreed that the German national team needs new impetus after the disappointing results recently.
"Going to the European Championships next summer, we need confidence and optimism in the country regarding our team.
"This has been one of the most difficult decisions I have had to make during my time in this position because I truly respect Hansi Flick and his assistants, both on a professional and personal level.
He added: "Sports success is of the utmost importance to the German Football Association, and that is why this decision had to be taken."
Flick (58 years old) was assistant coach to Loew in the German national team from 2006 to 2014.
He began his reign with eight consecutive victories, but their level gradually deteriorated and Germany was eliminated from the World Cup last year in the group stage.
His assistants Markus Sorge and Danny Röhl were also fired.
Oman, Costa Rica and Peru are the only teams Germany has beaten in the last 12 months.
This disappointing performance came as a surprise considering Flick won 70 of his 86 matches for Bayern Munich from November 2019 to June 2021.
Under Flick's leadership, Bayern won the domestic league, cup and Champions League treble in the 2019-20 season.
After Japan's defeat… Flick said he was "extremely disappointed" but believed he remained the "right coach" for Germany.
But he added ominously: "Things can change in professional football, and I can't see what's coming."
The German Football Association said it hopes to announce Flick's full-time replacement "as soon as possible."
Julian Nagelsmann, who replaced Flick as Bayern coach at the end of the 2020-21 season, could be the main contender. The 38-year-old has been out of work since being sacked by Bayern last March.
Liverpool boss Jurgen Klopp has also been mentioned in the German media, while Völler could be in contention too – although he has not coached since his spell as Bayer Leverkusen's caretaker coach in 2005.
Among the other names being floated is the former coach of Eintracht Frankfurt, Austrian Oliver Glasner.