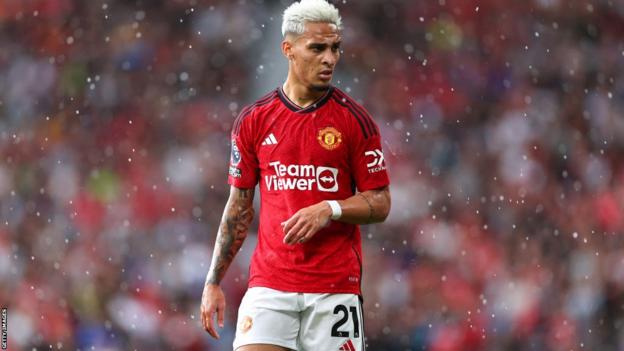 Brazil have dropped Manchester United winger Anthony following allegations of abuse by his ex-girlfriend.
The CBF said the 23-year-old was withdrawn from the squad after "facts became public" and "need to be investigated".
Brazilian news outlet UOL published allegations Made by Anthony's ex-partner on Monday.
Police in Sao Paulo and Greater Manchester are investigating the allegations, which the player denies.
"I can calmly say that the accusations are false and that the evidence already presented and other evidence that will be presented proves that I am innocent of the accusations made," Anthony said on social media.
"I am confident that the ongoing police investigation will show the truth of my innocence."
Anthony is accused of "head-butting" his ex-girlfriend Gabriela Cavallin in a Manchester hotel room on January 15, leaving her with a head injury that required treatment from a doctor.
She also claims she was punched in the chest, causing damage to her silicone breast implant, which required corrective surgery.
In his statement on Monday, Anthony added that his relationship with his ex-partner was "troubled", but insisted he "never committed any physical abuse".
He also issued a statement in June saying his ex-girlfriend had falsely accused him of domestic violence.
Greater Manchester Police (GMP) said they were "aware of the allegations made and investigations are ongoing to establish the circumstances surrounding this report".
"We will not comment further at this time," she added.
Manchester United said they had no comment at the moment when contacted by BBC Sport.
The allegations come after the Premier League club announced last month that striker Mason Greenwood would Leave by mutual agreement After a six-month internal investigation.
Charges against Greenwood, including rape and assault, were dropped in February. 21 years old Join the Spanish club Getafe On loan last week.
Anthony was replaced in the Brazil squad by Arsenal striker Gabriel Jesus for the next two World Cup qualifiers against Bolivia and Peru.