A staggering percentage of Americans have recently reported "interacting with their deceased relatives" through dreams and other means, according to the results of a new Pew Research Center survey.
Listen to the latest episode of the Quick Start podcast on CBN
In fact, more than half — 53 percent — of Americans It was like this Interactions with deceased loved ones, as this percentage says that they interacted with the individual in the dream or through "another form".
Breaking down this statistic a little further, 46% of Americans reported that the interaction occurred in a dream, while 31% said it happened some other way, according to the Pew Center. male.
Some other metrics add even more curiosity, as 34% said they "felt the presence" of a deceased loved one, 28% told that person about their lives, and 15% said they had deceased family members "connect with them".
For anyone considering repeat encounters, 44% of Americans said they had at least one of the above experiences within the past year.
The data comes with some caveats. Respondents were not asked to provide explanations that would shed more light on their self-reported interactions with deceased family members.
And so, pew male There is no way to know whether participants view these moments as "mysterious or supernatural, or whether they see them as having natural or scientific causes, or some of both."
The difference here comes from, for example, dreams versus overt attempts at communication. It is one of the dynamics to dream about a favorite memory related to a deceased family member; It is quite another matter to think that someone in the family tried to communicate in time space.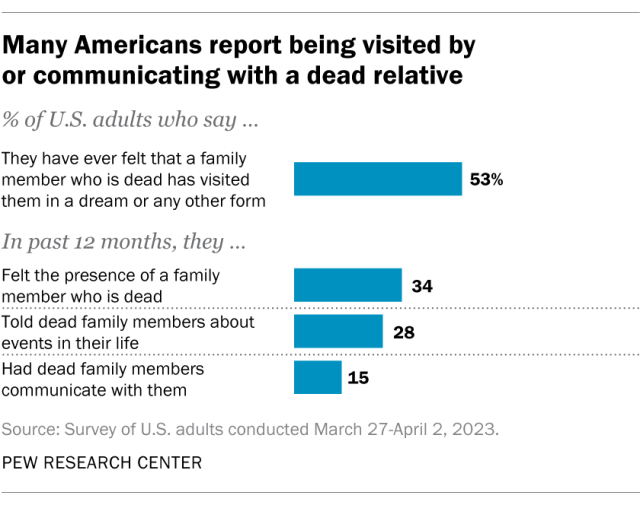 It's also important to note that Pew found that Americans with average levels of commitment and religious commitment are more likely than those with low or high commitment to report feeling the presence of a deceased family member.
"It appears that moderately religious people are more likely than other Americans to have these experiences," says Pew. books in the analysis. "This is partly because some of the more traditional religious groups — such as evangelical Protestants — as well as some less religious parts of the population — such as atheists and agnostics — are less likely to report their interactions with deceased family members."
Only 34% of agnostics and 26% of atheists reported having visited or interacted with a deceased loved one. Meanwhile, 42% of evangelical Protestants said the same. These proportions were much higher for historically black Protestants (67%) and Catholics (66%).
The survey results raise an important reminder: Attempts to communicate with the dead, known as necromancy, are prohibited in the Bible. We read in Leviticus 19:31: "Do not turn back to a watch, and do not seek spirits, for you will be defiled by them. I am the Lord your God.
It is not clear if these practices led to the responses of any Americans in this poll, but given the topic, it is certainly an important topic to consider.
The Pew Center collected survey results from March 27 to April 2, 2023, among 5,079 American adults. Read the full analysis here.